I visited Showcase recently at the RDS in Dublin and spent the best part of the afternoon chatting to the craftspeople who were exhibiting.  I had arrived earlier in the day and had tea and a good catch up with Lorna from Garrendenny Lane.  Meeting at Showcase is becoming a regular event for both Lorna and myself, last year a group of bloggers met – but this year it was just the two of us,  as events beyond our control meant the Paula from Mabel & Violet and Angela from Livingroom were not able to make the get together.
 There were some newly launched enterprises along with more established craftspeople exhibiting and displaying their crafts.
Some of my favourites from the show are listed below, they are just a small sample of the vast range of crafts available and on display.
A big feature of the show this year was jewellery, with plenty of variety from Button & Co.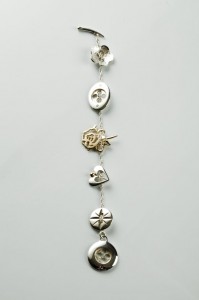 to By Yvonne.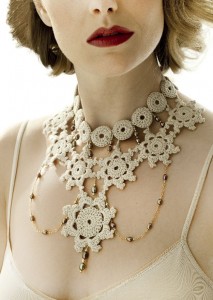 Slated
Based in Wicklow, this family business offer a range of handcrafted products made from slate.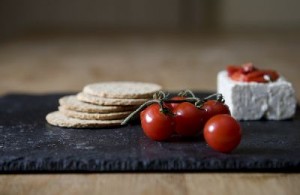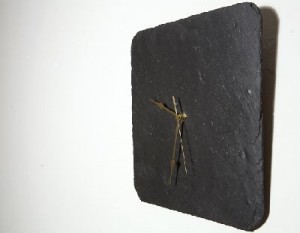 Jerpoint Glass
An old favourite of mine, I just love the range of glass and tableware the Jerpoint Glass manufacture.

Klickity
Klickity Design who are based in Dublin were the winners of the Best New Product 2011 award in the Tabletop and Interiors category.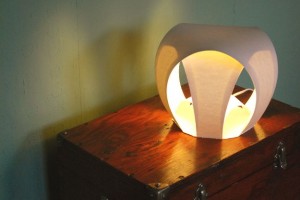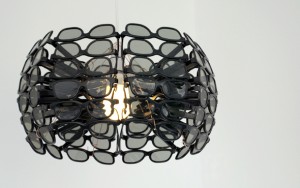 Garvan De Bruir
I didn't get a chance to speak to Garvan, each time I passed by his stand he was busy with a que of clients waiting to speak to him.  Garvan had a range of his leather work on show.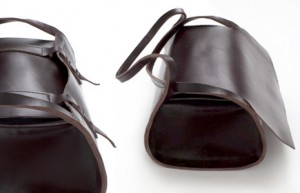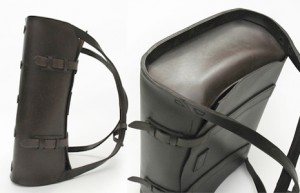 Karen Morgan Porcelain
Karen works from her own premises in Kilkenny, her pottery has a simplicity and fluidity to it and was displayed in the current trend setting colours of cream/off white along with pastel shades of blue and green.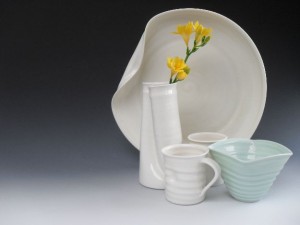 Irish Linen House
Greg and Mary Whelan from Irish Linen House, were at the Fingal Enterprise Board catchment area and were displaying a range of individually designed and made table runners.  Greg sources all the materials in Ireland, fine Irish linen is the main material used.  The patterns and designs are both traditional and contemporary in their style.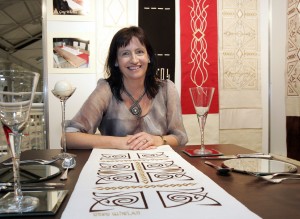 The balcony was where the County Enterprise Boards had craftspeople from around the country, some of which were start-ups in innovative areas. 
I really enjoyed the show, the Craft industry is thriving in Ireland.