Liven up your summer.  As we look forward to the long summer and spending days in our gardens, this is the time of year when we can treat our outside spaces as rooms and extend our living areas.
No matter what size of outdoor space we have it can be used for a wide variety of occasions and can be decorated in a number of ways to demonstrate our personalities.  Our gardens and patios can be used for entertaining, relaxing, playing and enjoying spending time together. 
Colour can play a very big part in this area of our lives, whether in the form of planting and flowers in bloom or indeed colourful planters, in a variety of colours and finishes.  Our outdoor furniture can also show our personalities and add that all important colour and vitality to our living space.
These areas are not only for use by grownups, but can also be enjoyed by the children, whether having a picnic on the grass, or with the use of toys and play areas.
Using our outside space as a dining and entertaining area can be a great way to spend time.  There is a large variety of colour in the form of picnic sets, salad servers and even glassware available which can add atmosphere and bring your scheme together.
Lighting can be added whether in the form of fairy lights or colourful lanterns, be aware of the safety issues though and make sure that these items are suitable for outdoor use.
Another way to use colour in the outdoor space is with brightly coloured bunting, similar to that pictured, which is normally stocked by Mabel & Violet the online boutique shop.  Also available are many items to create the perfect outdoor space, lovely picnic baskets or garden lanterns.   Whatever style you're looking to put into your garden this summer you are bound to find something special at Mabel & Violet.  www.mabelandviolet.com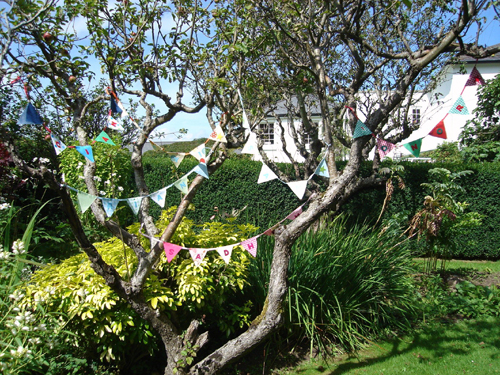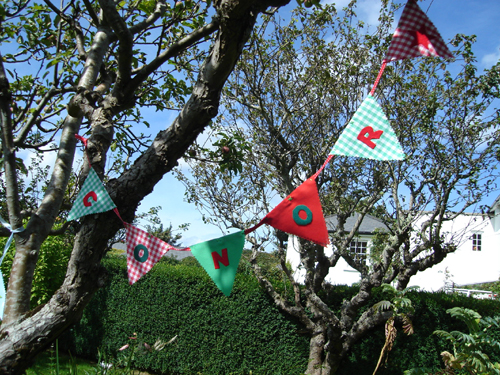 Enjoy the summer.
Photo supplied by Mabel & Violet, www.mabelandviolet.com