Showcase 2013 Part 1
I try to visit Showcase every year and there is always a vast array of good quality products on display, everything from furniture, glass, ceramics, and home wares to jewellery, knitwear and skincare: all or most of which is designed and made here in Ireland.
Irish Linen House
The first place I checked out was the Creative Island; this section is growing year on year. I didn't get to speak to all of those on the island but made a point of seeking out those who were interior design or homeware based craftspeople. There were some familiar faces along with some new businesses which had made it onto the Island. One of the start-ups which I have followed develop from the Enterprise Zone two years ago now: is Irish Linen House, the team of Mary and Greg Whelan who design and make tableware from quality Irish sourced linen have really established themselves with a growing range which now includes a specific set which was inspired by The Gathering. The theme of this collection is an Oak Tree, though launched for The Gathering celebrations I could see this as making its way into many a household as a family heirloom, it would make a great wedding present for anyone not
just those with an Irish connection, or with an Irish heritage.
Irish Linen House
The product range comprises of table runners, placemats and napkins. The product range through its versatility of design takes the market beyond individual homes to the wider home accessory market and gift market and from hospitality to corporate dining suites and embassies.
All their table runners placemats and napkins can be personalized with family crests or personal inscriptions and also provide the perfect gift. The Irish Linen House has gone from strength to strength and is now exporting internationally, all over the USA, Canada and South America as well as Europe.
Another creative force which I had met in the past were the girls at Klickity, I really like the new products which they have added to the range of products they now design and make. I loved the fruit holder and the small test tube vase.
Nicholas Mosse Pottery were launching a new pattern, Clover which contained lovely shades of blue and green.
Paddy McCormack works with iron, he designs and manufactures candle holders which come in a range of sizes and styles. Paddy works in his forge; which is based in West Cork every day, he's dedicated to his craft.
Locker 13 are based in the Malthouse Design Centre, the operation is mainly centred around two designers Shane Wilson and Karl Medcalf thought they do collaborate with other craftspeople. Their stand was manned by a young Italian lady Dora, who is working with them at the moment. They have a quirky and vibrant range of stock; I particularly liked their Comfort Lamp, they also make a Comfort Jug. Another item I particularly liked was a handheld blackboard which comes with its own white/chalk pencil; it is about the same size as the iPad and so is right on trend at the moment.
Potter Colm De Ris was exhibiting on the Creative Island again this year, I really liked his creations last year and I can say the same again this year. I didn't get a chance to speak with Colm or his parents who man his stand with him this year as I was limited for time this year when compared to previous years when I have visited Showcase.
Candles were featured on the Creative Island also two craftspeople were displaying candles the first I spoke to was Alison from Brooke & Shoals who are based in Wicklow and the second was from County Down: a business called Bog Standard whose range includes candles, scented sachets, soaps and creams along with scented fresheners.
I did predict last year that I saw great potential in the designs of Cillian Johnston and how right I was, last year he was located in the Enterprise Zone upstairs with his range of lamps which combine timber and Aran knit inserts. This year there he was on the Creative Island with a new and larger range of products which include designs in the area of hooks which are based on his previous designs featuring timber and knitted elements. Not only that but the new range includes; fun and funky fabric which is made into cushions and also matching lamp shades.
Cillian Johnston
Cillian Johnston
Cillian Johnston
I really wanted to speak with Pauline McLynn but she had a que of people lined up to speak with her so I headed off up to the Enterprise Zone (this section is included in Showcase part 2) when I returned downstairs the que had subsided somewhat and I joined the one woman ahead of me. Pauline was really in selling mode. Well Pauline being Pauline before long all four of us were chatting; like old friends, the English gentleman who was acquiring some of the knitted tea cosies designed and hand finished by Pauline was unaware of who she was and the whole concept behind "The Go On! Tea Company". As it turned out the gentleman was the owner of a tableware company in the UK called "Plate Tableware", based in Fulham and as it turned out Pauline knew the area. It really is such a small world after all. Pauline sources all the wool used in the designs from Donegal and she designs the colourways: she then has a small army of ladies in Lucan who knit the Go On! Tea cosies and she hand finishes and embellishes each one herself. While chatting with Pauline I received the phone call from my son to say he was ready to be picked up and so time had caught up with me and that was the end of my visit this year to Showcase.
Go On Tea Company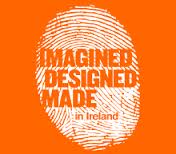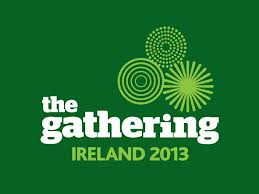 During the conversion with Barry Seaman from Plate Tableware he mentioned that he attends a different show each year, apart from being located so near to the design centre in London.
In recent times visiting Sweden and Paris but this was his first time to Showcase and he was impressed by the quality and range of products on display from the Irish craftspeople taking part in Showcase. Good quality design will always find a market and I was really inspired by this year's Showcase.
Watch out for Part 2 which will cover the Enterprise Zone.
Websites for those featured above
www.irishlinenhouse.com
www.klickity.ie
www.nicholasmosse.com
www.paddymccormack.com
www.locker13.ie
www.colmderis.com
www.bogstandard.ie
www.cillianjohnston.ie
http://thegoonteacompany.com/
http://www.platetableware.co.uk/index.html