As a member of a number of art groups I have a lot of friends who I share this hobby with.  Each of the artists carry out their art as their hobby and when we exhibit together there is great buzz.
BrushworX Art Group
BrushworX Art Group comprises of Niamh Pedreschi, Marie Morrow and Shirley Hackett, I am in the process of getting some images together to give a sample of the art produced by this group.  We have been exhibiting together since 2003, at either the South Dublin Library, at the Superquinn Shopping Centre in Lucan, or the Kildare County Council Library, Captains Hill, Leixlip. 
 http://brushworx.blogspot.com or brushworx.art@gmail to contact us.
People's Art Group
We also part-take in the People's Art who exhibit at the Church Of Ireland parish centre at St. Andrews Parish, Lucan, Co. Dublin.  This group comprises of up to ninety artists, who come together to exhibit.  Each artist gives up 25% of sales to the parish, as the event was established as a fund raiser for the parish.  We exhibit normally twice per year, Spring and Christmas, with a crafts area also included.  Some of the artists have gone on the bigger and better things, but it's a great group to be associated with.
 People's Art Links
Some of the artists involved in the peoples art have their own websites or blogs, I put out an email to the group who wished to have a link from here, so I've included the links which will be displayed in a-z order as they come in.
 http://www.valeriestephenson.com
Elisabetta Ravarino-Healy, Hand-made glass giftware.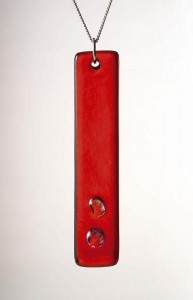 I caught up with one of the exhibitors from the Peoples Art on the phone earlier in the week to ask some advice on the up coming exhibition at the Marriott Johnstown House Hotel.
The craftswoman in question was Elisabetta Ravarino-Healy, she works in glass and makes the most exquisite one off pieces of jewellery and giftware.  She is listed on the Crafts Council of Ireland as a craftsperson.
Anyway, I had cause to call to visit her in her home and its such a treasure trove of art, crafts and boxes of beads and fabric - I could have spent a few hours there - just rummaging. 
I told her that I'd give her a mention and so her is her mention.  She takes part in exhibitions and craftfairs throughout the country and is just recovering from exhibiting at the Ploughing Championships.  Elisabetta can be contacted at +353.86.8215794, she is also listed on the crafts council website www.ccoi.ie