I hope to update this page with both old and new pieces of artwork, this is my very own exhibition space.  Items are displayed with the newest entry first on the page. This is the other painting which I painted for my brother last year, along with the oil painting of Skerries and Dublin City.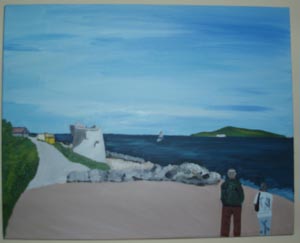 This is one of a set of three in the Reflections In Time collection which I exhibited at the Peoples Art Exhibition way back in 2004, one of these peices is proudly on display in my own kitchen.
I love the simplicity of this piece, I painted it for one of the craft fairs before christmas - it didn't sell and I gave it to someone for christmas.
Well my brother collected both of his remaining pictures, it took me a while to get motivated and finish them.  The spare room looks very bear now - as I started them this time last year.  It was a set of three but as soon as I finished the first he took it away.  The missing picture, which I don't have a photo of is of the Island of Lambay as seen from the beach in Donabate, it also has our parents as seen from the back looking towards the island and features the beach and the Martello Tower.  I must get a photo of that one! 
This is the oil painting which I painted for my brother, from a photograph he had taken looking towards the Ha'penny Bridge and showing the view towards the famous James's Gate the home of Guinness.
This is the other oil painting that I painted for my brother, again it is from a photograph which he took of a fishing trawler just outside the fishing harbour of Skerries which is in North County Dublin.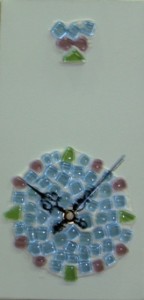 This is one of the "My Time" series of clocks which I made and exhibited for the Peoples Art exhibition at Christmas 2007, I later gave it to someone as a present, when they asked if that could be their Christmas gift.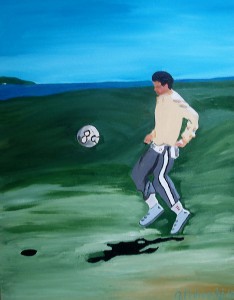 This is a painting which I gave to a special someone as a gift, so it never has and never will be exhibited.  I painted it from a photograph I took, on a lovely summers day on the grass overlooking the beach in Malahide, Co. Dublin.  I just happened to catch my son in mid-air while playing ball and showing off his skills.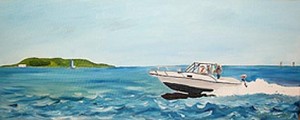 This is a painting of Jordan Poppy, a Trophy fishing boat, off the Coast of Ireland, in the background is Lambay Island, Dublin.
I painted this from a photograph that I took, the boat belongs to a friend of my husband.  It was in my hall gathering dust when the owner of the vessel arrived one day and spotted it.  He was delighted to take it home with him, but I miss it!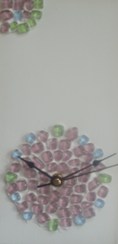 This is one of my clocks from the "My Time" collection of clocks which I exhibited for the Christmas exhibition 2007.  It is deep canvas which has been embellished with glass mosaic pieces in different colours, it is a one of a kind piece.