Visiting Showcase has become a ritual for me, from the days a number of years ago when a group of bloggers used to meet chat, drink tea, eat cake and generally compare interior design notes to nowadays when I usually just pop in by myself.  It's now become somewhat of a game; I like to visit the Enterprise Zone up on the Balcony which has the Local Enterprise Offices (what used to be the County Enterprise Boards) to see what trends and which Craftspeople I can spot and if I can guess which of them will make it onto the main floor or even onto Creative Island.
For the last number of years I have met some wonderful Craftspeople who I have seen on the balcony and who are now and some who have made it to Creative Island more than once.  This year was no different and though I only spent a few hours there, I did get a chance to look out for and also chat to and take note of some Craftspeople who were new to the show on the balcony and to those who I'd spoken to in previous years when I had visited.
It's great to hear stories of Craftspeople who though they are still considered Start Ups have broken into markets around the world.  And also stories from the balcony from some who have been selling their wares to buyers from far and wide, from small unique craft and specialist shops at home here in Ireland to far away shores of Dubai and New Zealand.
Some of those on the Balcony who I'll be watching out for in the coming years and to keep an eye on are Jean Whitfield who makes her own range of handmade silver jewellery, and Colm Brennan a wood turner who makes amazing one of a kind dramatic pieces one of which was a tall, elegant lighthouse containing more than 2000 individual pieces of timber all hand turned.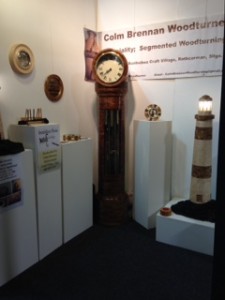 Also on the balcony was Cian Murphy of Chart Datum who produces three dimensional marine charts of what lies beneath the waters off the coast of Ireland.  Among the counties displaying was my home county of Kildare, where I called to see some friends.  I had met by chance Ken and Trish Greene of KT Metal Designs while visiting the show last year, we shared the bus from the car park to the Main Hall; at the time they mentioned that their dream was to be an exhibitor this year.  Since then I have joined the Business Action Group when it formed in June of 2014 and both Ken and Trish are also members of the group, we shared a group stand at the Ideal Home Show last Autumn and the range of metal works which Ken and Trish produce has grown since then, another member of the group also exhibited on the LEO Kildare stand, Amanda Christie Designs.  Amanda stocks a range of unique lamp shades in a range of sizes, in a wide variety of fabrics, colours and designs.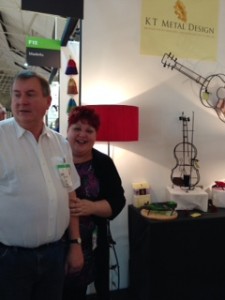 While there were old friends on the Creative Island, some of whom I caught up with this year and some were so busy with international buyers that I didn't get a chance to chat.  Of those on the Island were Greg and Mary of Irish Linen House, they have expanded their range from where they started with table runners and napkins; embroidered Irish made linen to include framed pomes for special occasions and they have included the addition of Irish made Tweed, included in the new range of table runners and napkin sets and even a new departure for them into bags.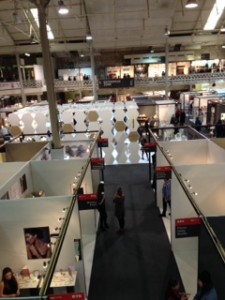 Also on Creative Island were others I had met in previous years like Brooke & Shoals, Green Gorgeous, Jerpoint Glass Studio, Scatterpilliar Designs, Slated, and The Handmade Soap Company.  There was also Craftspeople who I had neither met or seen their craft before and the one which I think will be one to watch in the future is Snug; a range of clean, sleek lines in the form of contemporary furniture.
Links to those mentioned are
www.jeanwhitfieldjewellery.com
www.colmbrennanwoodturning.com
www.chartdatum.ie
http://ktmetaldesign.ie
http://amandachristiedesigns.weebly.com
http://irishlinenhouse.com
http://www.brookeandshoals.ie
http://www.greengorgeous.ie/index.php
http://www.jerpointglass.com/
http://www.scatterpillardesigns.ie/
http://slated.ie/
http://www.thehandmadesoapcompany.ie/
http://snug.ie/